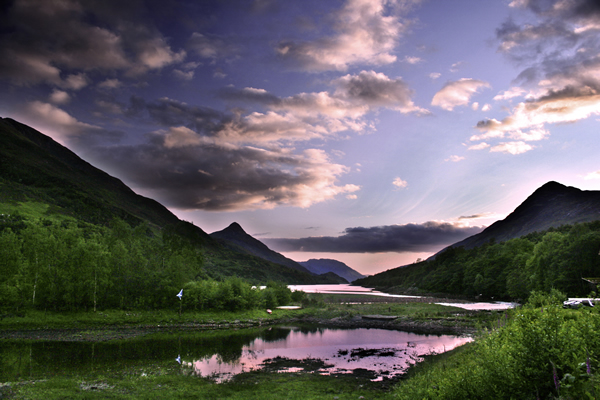 Highlands at Sunset...


He whispered, "Isa, our history had been written long before it ever began." I smiled, beaming up at him. He'd spoken the utter truth


Wow! What an adventure, that is the best way for me to describeForged in Dreams and Magick. I started this book understanding that they're would be some time travel and heartache but I didn't know it was to this level. I was impressed with the historical accuracy and attention to detail, the imagination put into the time travel and the love one woman had between two amazing men.

Let's start with what surprised me the most. How researched this book was. One of my favorite books, The White Mare is based on a Pict tribe and how they defeat the Romans. It's beautifully written and painstakingly researched and I found myself comparing Forged in Dreams and Magick to The White Mare. With parts of Forged in Dreams and Magick set in Velloc's time and the other set in Ian's time (1300's Scotland). We get vivid detail on the surrounding landscape, people and cultural difference.


Control had always been a matter of perception. Accepting those things I had no power over was a first step toward feeling like I at least had my hands on the steering wheel, even if I had to stay on the paved road. Dorothy had to follow her yellow-bricked path, and in a way, I had my destiny laid out before me, even if nothing appeared golden about it. She had to skirt dangers, villains, and fantasy beyond her belief system to find her way home, and if that teenaged braided girl could do it in her land of OZ, so could I.


Time Travel: I will admit, this had my head spinning a bit. I mean, Isabel goes from present day to 1300 scotland then to a Pict chieftain. It was hard to wrap my brain around it at first. But once you started to understand the box and how time moved it was easier to see how Isa moved within this linear time. That didn't mean your heart didn't break with every goodbye. I think that's what made this time travel so hard and one my few complaints about this book. I felt that at time Isa was just flying thru space and time (figuratively and actually). Once I got used to her being with Ian she'd somehow end up back with Velloc. Basically there was a lot of time travel. It fit the story but at times, especially in the beginning it was too much.


My heart beat for two men, and I didn't care about the ramifications of such insanity.


Valloc and Ian: When I grow up I want to Isobel... Please! These amazing, hard toned warriors were head over heels in love with her. She's honestly the luckies fictional woman... well one of them. From the beginning, I wanted Isa to be with Ian. There was just something magical about their relationship that pulled at my heart. His ability to say that he wanted to hide her away from harm but allow her to be the strong independent woman that she is was beautiful to read. On the flip side of that there was Valloc, a fierce Pict chieftain who's not that different than Ian and I time I wondered if they were related. Valloc is strong willed, spiritual, honest and fierce. In the end there is only one man for Isa, not because of choice but fate steps in and makes that decision for her.


"Promise me, Isobel. Promise me, no matter what happens, you'll stay with me." He raised his eyebrows slightly, searching my eyes with hope.


In conclusion, I was pleasantly surprised with how much I loved this book. I found myself drawn to it and unable to put it down. This is my first book by Ms. Bastion and I cannot wait to read the next book in the Highland Legends Series. I've been truly captivated and a must read for those who love the Highlands like me.

ARC courtesy of Netgalley in exchange for an honest review